September 25, 2022
High points for economic data scheduled for September 26 week
Most of the economic data are going to be less relevant in the wake of the FOMC's 75 basis point rate hike on September 21. Housing data will mostly look back at August when there was a brief respite in the upward climb of mortgage rates…[Read More]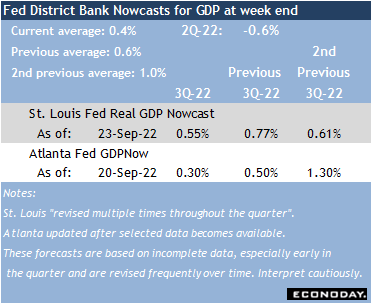 September 22, 2022
Podcast – Central bank round-up: What they did and what it means
Supported by aggressive rhetoric, this week's raft of official interest rate hikes means that many central banks are still firmly in tightening mode. And that's adding to recession risks and posing increasing problems for those monetary authorities reluctant or unable to follow suit.
September 20, 2022
September BoE MPC Preview: Tightening into recession
Financial markets have become very used to the BoE MPC raising Bank Rate. It has done so at every policy-setting meeting since it began the current tightening cycle last December and expectations are that Thursday's announcement will make it seven out of seven…[Read More]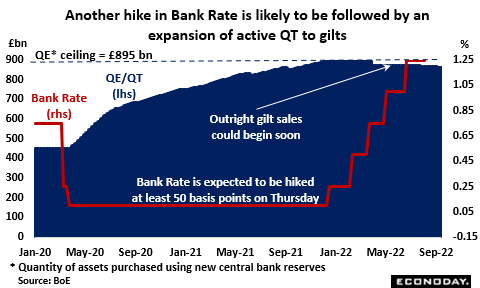 September 19, 2022
SNB preview September 2022: When a strong Swiss franc is not such a bad thing
The SNB's unexpectedly large 50 basis point hike in its benchmark rate to minus 0.25 percent in June was widely seen as indicative of a major shift in policy and proof of the central bank's desire to get interest rates back into positive territory…[Read More]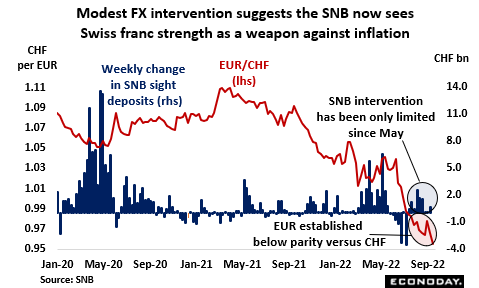 September 18, 2022
High points for economic data scheduled for September 19 week
The US calendar in the September 19 week is dominated by the September 20-21 FOMC meeting. In recent weeks Fed policymakers have been sending strong and consistent signals that taming inflation remains the priority for monetary policy…[Read More]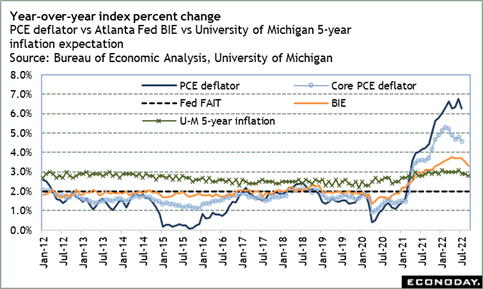 September 15, 2022
Manufacturing down but not out in New York and Philly Fed surveys
The September readings of the general business conditions indexes in the New York and Philadelphia Feds surveys of manufacturing moved in different directions. However, in the end, they appear to be telling much the same story…[Read More]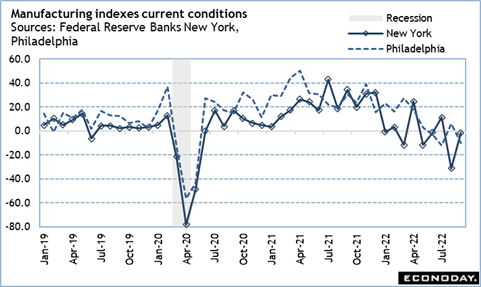 Investors who follow economic events have a strategic advantage
Making smart investment decisions is directly related to being better informed. Following economic events provides predictability of market movements. Econoday Enterprise Solutions demystifies the relationship between economic announcements and market reaction so that investors can capitalize on opportunities first.