January 31, 2023
February ECB meeting preview: Concentrating on the core
There may be differences over the desired size of any hike, but a concerted raft of hawkish comments from Governing Council (GC) members this month strongly suggests unanimity over the need for higher ECB interest rates on Thursday…[Read More]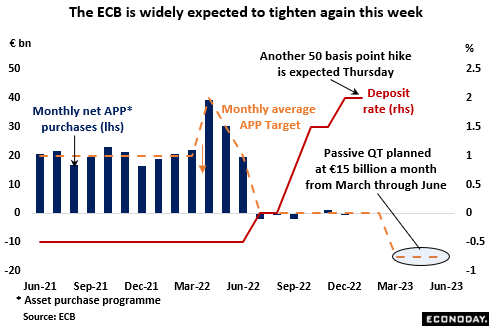 January 30, 2023
February BoE MPC Preview: The crystal ball is no clearer
Having already been raised in December 2021 and again at each MPC meeting in 2022, Bank Rate is widely expected to be hiked for a tenth successive time on Thursday. However, the magnitude of Thursday's move is much less certain…[Read More]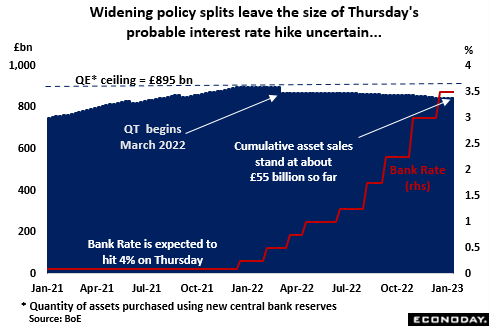 January 30, 2023
High points for economic data scheduled for January 30 week
The January 30 week will see a laser-focus on the outcome of the January 31-February 1 FOMC meeting. It is not in question as to whether FOMC voters will raise the fed funds target range after their deliberations…[Read More]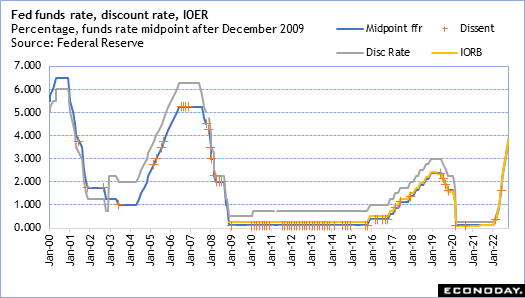 January 25, 2023
Podcast – The economic outlook remains highly uncertain
Market reaction to this month's data underscores just how uncertain investors are about the global economic outlook. And this means that asset prices are likely to remain particularly sensitive to the higher frequency data, at least until the picture becomes clearer.
January 23, 2022
High points for economic data scheduled for January 23 week
The January 23 week encompasses the communications blackout period around the January 31-February 1 FOMC meeting. This starts at midnight on Saturday, January 21 and runs through midnight on Thursday, January 26…[Read More]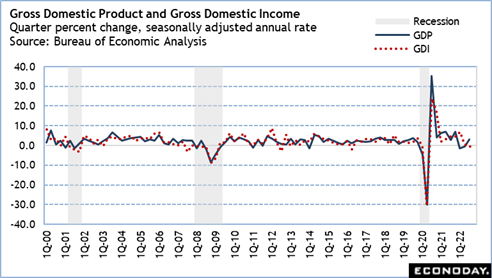 January 19, 2023
What do the New York and Philadelphia manufacturing surveys tell us?
The general business conditions index in the New York Fed's Empire State manufacturing survey plunged 21.7 points to minus 32.9, its lowest since minus 78.2 in April 2020 and minus 48.5 in May 2020 during the first months of the pandemic…[Read More]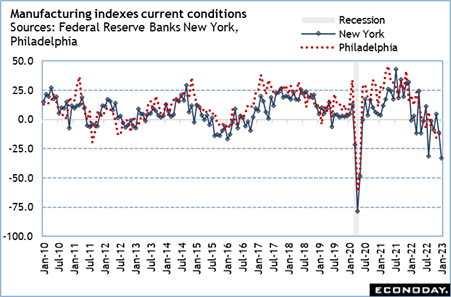 Investors who follow economic events have a strategic advantage
Making smart investment decisions is directly related to being better informed. Following economic events provides predictability of market movements. Econoday Enterprise Solutions demystifies the relationship between economic announcements and market reaction so that investors can capitalize on opportunities first.