February employment looks to hold few surprises
March 2, 2022
By Terry Sheehan, Econoday economist
The February Employment Situation will be released at 8:30 ET on Friday, March 4. This report will be compiled from data collected for payroll periods that include February 12. With the holiday shopping season well over and only one Federal holiday in February, calendar effects are likely to be minimal. There was no net change in the number of workers on strike in the February reference period, so that won't distort the data. There may be some weather impacts from storms, but these should be minor and not particularly visible if the early median expectation of a gain of 390,000 is realized. The ADP national employment report put private payroll growth at 475,000 for February. This was above expectations but should buoy confidence that private payroll growth will hold at a solid level when the BLS data are released.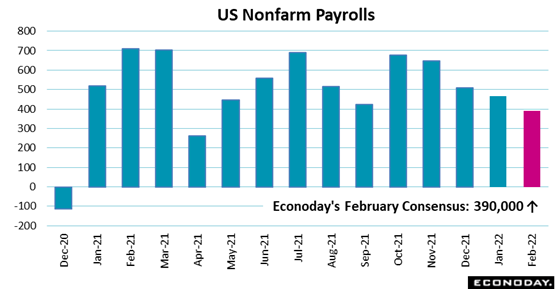 February nonfarm payrolls tend to be overestimated in market surveys of forecasters. Since 2001, the actual month-over-month change in nonfarm payrolls came in below the median estimate 14 times while it was above the estimate 6 times. On the other hand, it should be noted that February nonfarm payrolls are more often revised up in the March report with upward revisions in 12 of the past 2 years.
In sum, the February employment report has relatively little potential for a surprise that would distort the picture of an economy adding jobs at a healthy clip and delivering with it favorable conditions for workers seeking new opportunities.
This is the last employment report the FOMC will have in hand when it meets on March 15-16. Although the economy is facing greater uncertainty with the arrival of war in Ukraine, the data through February should look solid for policymakers as they contemplate increasing short-term rates and just how sizable that increase should be.
MARKET-MOVING EVENTS FOR AN ENTIRE YEAR
Strategic investing and analysis are a lot easier when you can identify patterns and see how economic events and announcements correlate with specific market movements. The Econoday Journal provides a convenient and easy way to follow important economic events every day, every month, throughout the year.
Enhanced new large format
Spiral-Bound
Monthly Monitor Calendar
Space to write personal Market Impact Notes
PLUS Our comprehensive Resource Center, featuring all the great information & insights you've come to expect from Econoday