Forecasting January payrolls can be highly uncertain
February 2, 2022
By Theresa Sheehan, Econoday Economist
US employment numbers for the month of January can be some of the most difficult to forecast. The current consensus for nonfarm payrolls among Econoday's panel is a rise of 200,000, but the gap between low and high estimates is huge: from down 400,000 to up 280,000. What is going on here?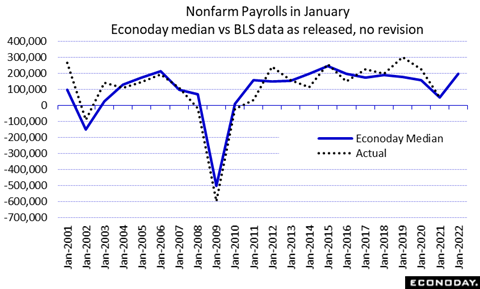 In addition to trying to accurately account for pandemic effects, January tends to have problems with seasonal adjustments due to unpredictable weather. There's also the arrival of annual revisions which can throw off forecasts as well.
And let's not forget about effects tied to the month's reference period, which is especially important for January's data in terms of the timing of post-holiday layoffs of temporary workers. If temporary workers who in non-pandemic years are usually are laid off in late December were laid off instead during the first part of January, then they will be counted in January's payrolls, a factor that could lift the month's total. The reference period for January's establishment survey (which is what payrolls are based on) is cheated toward the early part of the month, on pay periods that included the 12th.
Where businesses can, some of those temporary workers will be converted to permanent employees. The January ADP data had a dizzying plunge of 301,000 in January after rising 776,000 in December. Of the total ADP drop, nearly 2/3 were in leisure and hospitality (minus 154,000) and trade, transportation, and utilities (minus 62,000) – exactly where those who only wanted temporary employment during the holidays would leave. Conversion to permanent status may have been less than what employers wanted, a factor that could limit January's total.
Do not discount the ADP report entirely. It does tend to show the direction of payrolls in BLS data. It probably signals moderation in private payroll growth in January, just not anything as severe as ADP's total. When looking at December and January together, ADP's monthly average is a gain of 238,000. This would be in better alignment with Econoday's consensus estimate of 200,000.
For general seasonal adjustment after the disruptions in the pandemic, the swings are so big and the movements by sector atypical, that these all need to be treated with caution. An analysis of the last 20 years says the headline is about equally likely to come in above expectations (9 times) as below (11 times).
The upshot of all of this is that given the wide range of forecasts, Employment Friday's headline for nonfarm payrolls is likely to be a surprise no matter what, whether it's high or low or, perhaps most surprisingly of all, if it's actually near the median. It's probably a good thing that Fed policymakers have already announced their tightening intentions and will have the February employment report in hand before the March 15-16 meeting because they will need more data to properly read the state of the US economy.
MARKET-MOVING EVENTS FOR AN ENTIRE YEAR
Strategic investing and analysis are a lot easier when you can identify patterns and see how economic events and announcements correlate with specific market movements. The Econoday Journal provides a convenient and easy way to follow important economic events every day, every month, throughout the year.
Enhanced new large format
Spiral-Bound
Monthly Monitor Calendar
Space to write personal Market Impact Notes
PLUS Our comprehensive Resource Center, featuring all the great information & insights you've come to expect from Econoday